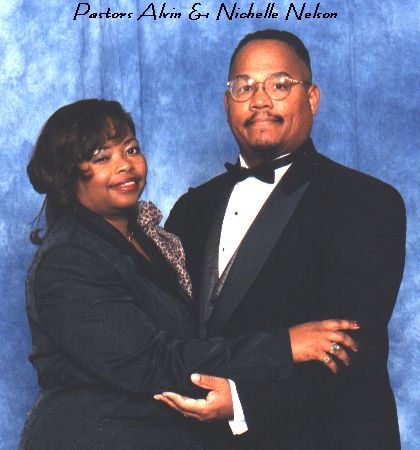 Pastors Alvin & Nichelle Nelson

We would like to thank you for visiting this non-Denominational church-site. The Lord has pointed you here to this dynamic internet and church ministry. If you are ever in the Cedar Park/Austin Texas area, all are more than welcome to visit with us and worship in His presence. We are here to serve you, as you serve the Lord. May His blessings continue to be upon you and your household and our country. Remember, it is all about Him. "This is the year of our upgrade, we shall pursue the enemy, possess the land and recover all! We are Kingdom People doing a kingdom work!"

"Get your Joy Restored in the Lord!"

Sunday Worship -11:00 a.m.

Belt of Truth Bible Study, Mondays - 7:00 p.m.

Sunday Worshiping Location: Holiday Inn Express 12703 FM 620 West at Pecan Park Drive, Northwest Austin, Texas

We announce the home-going celebration of our daughter Adrienne on the 20th of January 2003. She left this life on January 15th, 2003 and will be missed by all, especially her family. We here know that she is now located at the Feet of the Lord worshiping in His presence. You may visit her website at www.caringbridge.org/tx/adrienne

We would like to thank you all for your condolences and prayers.

YOU CAN NOW HEAR Rejoice Christian Ministries Int'l and other powerful ministries ON THE INTERNET AT: www.tdgr.org

Take a listen and be blessed!

"The Difference! Gospel Radio" -

"Were the difference is in the Word..."




History

Prayer Request

Visitors Sign In

Upcoming Events

Ministry Links

Rejoice! Internal Church Ministries

Rejoice! Ministries - Contact Us
Email Us: rejoiceministries@onebox.com
Rejoice in the Lord always, and again I say Rejoice! Phil 4.4

* This website was updated by M3™Websites by Design™ on June 10th, 2004
Copyright © 2001-02-04 by [Rejoice! Christian Ministries Int'l Inc., is a Texas non-profit corporation™]. All rights reserved. You may not copy, duplicate, or download any graphics, gifs, photos or information from this website without the express written permission of Rejoice! Christian Ministries Int'l and M3™Websites By Design™